Android is the most popular mobile OS because of its features, like customizing the device to one's liking. The tools like Substratum make it easier to customize some or all parts of the device in a few seconds.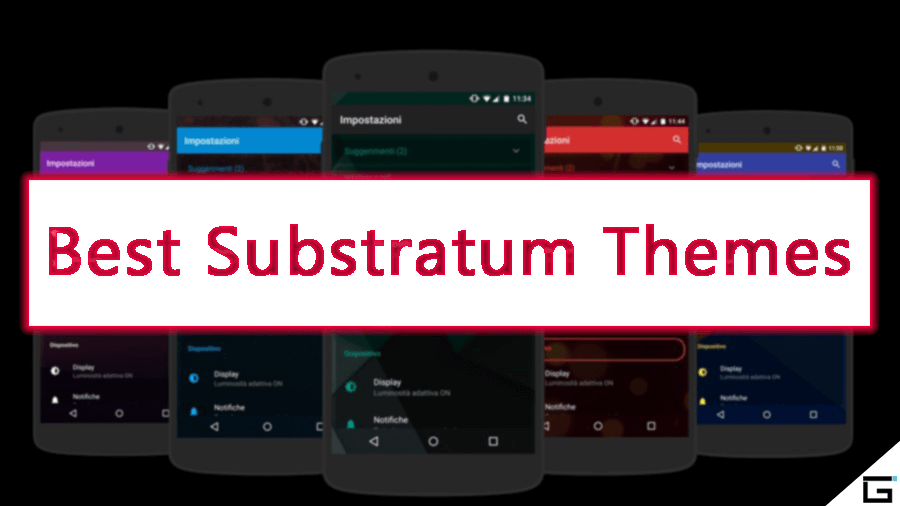 Substratum is an excellent tool for theming an Android device. However, we need a theme pack to customize the device. There are plenty of Substratum Themes available on the Play Store, both paid and free. As days pass by, more and more themes are build and ported for Substratum Theme Engine.
It is confusing to choose the Best Substratum Theme to try out. So, here we have come up with the list of Free and Best Substratum Themes that you can try.
What is Substratum?
Substratum is a theme engine developed by the Projekt Development team. It has the largest community than any other competitor.
Substratum is supported by third-party developers who create beautiful theme packages and share them with others in the community. It is quite simple to apply Substratum Theme on Android; additionally, developers often include notes to help users with the installation.
The Substratum Theme engine is compatible with Android Nougat, Oreo and Pie and can be downloaded for free from Play Store. However, it requires root access to function properly and be able to use new themes. However, if you're rocking Android Oreo, then Andromeda add-in allows you to use Substratum without Root.
Download Substratum Theme Engine
Substratum Theme Engine – Download
Andromeda AOSP Rootless 8.x – Download
How to install the Substratum Theme Engine on Android
Make sure your phone has proper root permissions. If not, root your device before proceeding with the installation.
Install the Substratum Theme Engine from the above downloads section.
Open the app and grant all the required permissions.
Now, the Substratum theme engine is installed, and you're ready to customize your phone. Download one of the Best Free Substratum Themes from below and apply it on your phone.
Best Free Substratum Themes for Android
Substratum Theme Engine is the best Android customization tool, and with just one click, we can apply the changes and enjoy the new look on the device. However, Substratum requires root access, so, make sure your device is rooted. If you meet this requirement, then you can proceed and try out the free, cool, and best Substratum themes listed below.
Note: While these themes will work with the regular Google apps, it is recommended to use Theme Ready Google Apps, which can be downloaded from here.
1. Default Dark Theme
The Default Dark Theme is the best theme for Substratum. It is based on the default AOSP dark material colors and later extended to provide more variants to customize the device according to the user's taste. It offers accent colors like teal, amber, blue, blue light, cyan, green (3 variants), lime, orange, pink, purple, red, white, and yellow. Background colors include dark, darker, and black. If you have a device with an AMOLED display, then this theme adds to advantage by saving battery life.
Screenshots –
2. Nova UI Theme
Inspired by interstellar concepts of the outer space, Nova UI Theme infuses various galaxy related elements. All of the most used apps are themed to perfection in this theme. The Nova UI takes you above the earth and beyond. Its blissful color combination is out of the world, and this is what makes it to the list of best Substratum themes APK. The theme comes with Amazing Boot Animations, Beautiful Fonts, Blissful Accents, Melodious Android Sound packs, substratum icon pack, and more.
Screenshots –
3. Material Glass Substratum Legacy Theme
Material Glass is the first-ever Material theme. It was started as a project for CM Theme engine and later ported to Substratum. Just as the name implies, Material Glass Substratum Legacy Theme is transparent, and it allows enjoying the beauty of your wallpaper as a background on the whole device. There are no special permissions required, no secretive logging, and no fermium trials. If you are a developer, then you can make use of the files and scripts which are open source at Github.
Screenshots –
4. Ice Theme
Ice is the best pure white theme with beautiful pastel accent colors and 28+ themed apps. This theme is compatible with 7.x.x ROMs with OMS support and 8.x.x ROMs. This theme changes the UI of the device entirely to white. AOSP Framework, AOSP Settings, AOSP Dialer, System UI, AOSP Gallery, Gmail, and YouTube are among the themed apps. The complete list of theme ready google apps and other apps can be found on the download page.
Screenshots –
5. BalticUI for Substratum
BalticUI is a minimalist, lightweight, and material design theme. If you are looking for a less resource-intensive theme with better customization options, the BalticUI is best Substratum Theme. The framework, status bar icons, lock screen, notification shade, settings, calculator, contacts, dialer, Galley, keyboard (AOSP), SMS, and System UI are the themed elements in BalticUI.
Screenshots –
6. Greyce
Greyce is another Simple, Minimal, and Light Theme for Substratum. It comes with theme elements like Quick settings, Settings, Messaging, and more. Various accents are available to choose from based on the user's liking. The fact that it is minimal and light-weight makes it to the list of cool Substratum Themes.
Screenshots –
7. Pixel Theme
Pixel Theme for Substratum is similar to the Pixel device UI. If you like Google's Pixel UI, then Pixel Theme is what you would like to install. It comes with different accent colors and elements like Navigation Bar (Filled, Stock AOSP, Stock Google Pixel), SystemUI (Stock Google Pixel blue color, Stock Nexus teal color, Grey, Red, Purple, Orange, Green, Indigo, Lime, Pink, Brown, Black and Cyan), AOSP & Google Package Installer are themed. It is the best Substratum Theme which gets close to the Google Pixel's device UI.
Screenshots –
8. InversionUI Theme
If you like Dark UI then InversionUI Substratum Theme is the one to try out. The themed elements and apps include - AllCast (notifications), Calculator, Cell-broadcast, Contacts, DeskClock (notifications), Dialer, Eleven, Framework-res, Gmail (notifications), Google Contacts, Google Dialer, Google Inbox (notifications), Google Keep, Google Messenger, Google Play Music, Google Play Store, Hangouts, Package Installer, Phone, Server-telecom, Settings, SystemUI, Velvet (alias Google Now), and WhatsApp (beta). It is the best android nougat dark theme.
Screenshots –
9. DNA Project Theme
The DNA Project Substratum Theme offers a beautiful cool blue and steaming, hot red accent on a beautiful dark grey background with the feeling of a new device. It includes a container app which houses everything a user needs, like tools from a full device, system reboot menu, efficient customer service, dashboard filled with news, updates, and a navigation drawer filled with all sorts of goodies.
Screenshots –
These are the list of Best Substratum Themes for Android. Which of the above Substratum Themes is your favourite? Do let us know in the comment section below.
FAQ
How to install Substratum on Android 8.0 Oreo without Root?
Substratum can be installed without root on Android Oreo using Andromeda app. Watch the below video to see how to install Substratum Theme on Android 8 Oreo without Root.
How to install Substratum on Android 9 Pie?
The process to install Substratum on Android Pie is just like with Android Nougat. You'll need root access and Substratum app installed. Just make sure the theme you download supports Android Pie.
How to remove or uninstall Substratum Theme?
To remove the Substratum theme, open the Substratum app on your phone, and navigate to Overlay List. Now, select the overlays you want to remove and tap on the floating theme icon (brush icon) at the bottom left and tap on Uninstall Selected.
This page may contain affiliate links so we earn a commission. Please read our affiliate disclosure for more info.