Google Chrome is one of the best web browser available for both Desktop and Mobile devices. It is by far the most popular web browser in the world. One of the best features of Google Chrome is its ability to add new features with the help of Google Chrome Extensions. Unfortunately, Google Chrome for Android lacks the ability to use extensions. So, in this tutorial, we will guide you on how to install Chrome Extensions on Android.
Installing Chrome Extensions on the desktop is quite easy. Thousands of add-ons for chrome are available on chrome web store doing all kind of tasks ranging from blocking ads, remembering your passwords, customising chrome and more. However, there is no such web store for Chrome on Android devices, which means it is a little harder to install chrome mobile extensions on Android.
How to Install Chrome Extension on Android
Google developed Chrome as a part of its Chromium open-source project, and the code that built chrome is available for other developers to build their web browser. Fortunately, a lot of developers have developed their web browser with different features than Google Chrome. Some of these chromium-based browsers also support the Chrome extension on mobile.
Kiwi and Yandex Browser are the two web browsers available for Android with support for Chrome Android Extensions. So, we will make use of these browsers to enjoy Chrome Extensions on Android Phone.
Install Chrome Extensions on Android using Kiwi Browser
To install Chrome extensions on Kiwi for Android, follow the steps listed below.
Download the Kiwi Browser on your Android phone or tablet.
Once installed, open the Kiwi browser and type "chrome://extensions" or "kiwi://extensions" in the address bar.
Enable Developer mode by switching the toggle.
Now open New tab and enable Desktop mode.
Now, type "chrome.google.com/webstore" in the address bar and search for the Chrome web extension which you want to download.
Once the extension is installed, you can switch back to "chrome://extensions" tab, and you'll find it listed there.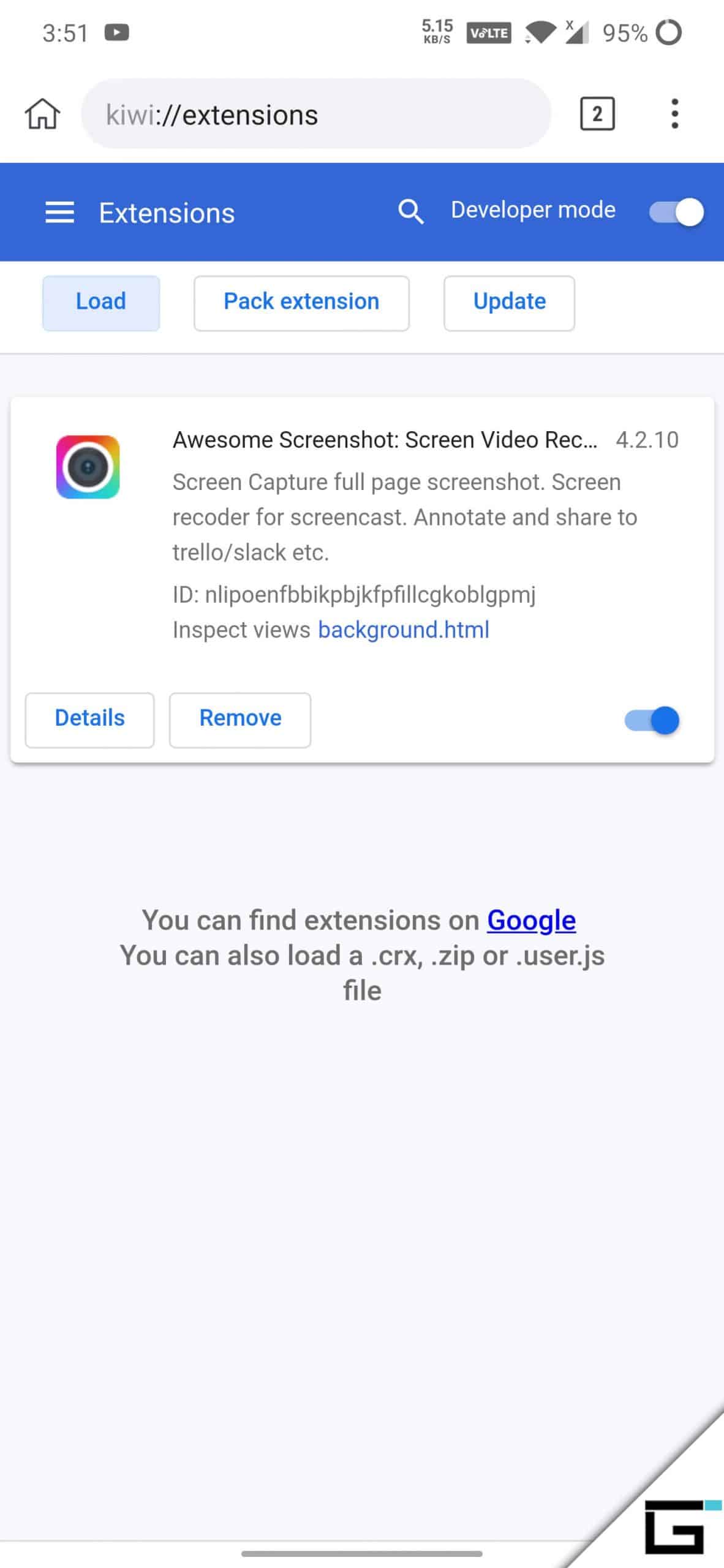 Apart from the ability to install chrome extension on Android, Kiwi browser also packs some great features like built-in pop-up blocker, crypto-mining blocker and more.
Install Chrome Extension on Android using Yandex Browser
Yandex Browser is another popular web browser which supports Android Chrome extensions. Built on Chromium code, Yandex is developed by Яндекс and has more than 1.5 million positive reviews on Google Play Store.
To install Chrome Mobile Extensions on Yandex browser follow the steps mentioned below.
First of all download and install the Yandex Browser on your Android phone.
Once the browser is installed, open it on your phone.
Now type "chrome.google.com/webstore" into the address bar and search for the extension you want to download.
Conclusion
Installing Chrome Mobile Extension on Android is a bit tedious task, and unfortunately, official Google Chrome for Android doesn't support chrome extensions. So, we have to depend on other web browsers like Kiwi and Yandex, which are built on the Chromium code used by the official Google Chrome for Android.
As of now, Kiwi and Yandex are the only trustworthy browsers which allow you to install Chrome extensions on Android.
If you found this tutorial helpful, then don't forget to share it with your friends on Facebook, Twitter and other social networking sites.
Have any questions? Don't forget to post them in the comment section below.
This page may contain affiliate links so we earn a commission. Please read our affiliate disclosure for more info.