I hope you'll all agree with me when I say:
True wireless earbuds are the future of the wireless earbuds.
Well, there is one problem, finding good true wireless earbuds in the budget.
That is why I have come up with the BlitzWolf BW-FYE3 True Wireless earbuds [Buy Now].
Let's find out whether they are best true wireless earbuds under budget and worth buying.
BlitzWolf BW-FYE3 – Full Review
BlitzWolf BW-FYE3 comes in a good quality box with closed-cell foam inside to protect the contents during shipping. The earbuds are located inside the charging case.
Along with the earbuds and charging box, there's also a Micro USB cable, three additional ear tips, a user manual, and a warranty card.
The user manual is easy to follow and is available in multiple languages. BlitzWolf offers 18 months manufacturer warranty on BlitzWolf BW-FYE3 along with free product support.
BlitzWolf BW-FYE3 True Wireless Earbuds – Specifications
The BlitzWolf BW-FYE3 wireless earbuds come with Bluetooth 5.0 with the transmission range of about 10m (approx. 33 feet).
Each earbud comes with the battery capacity of 40mAh, and the charging box comes with 2600mAh battery capacity.
BlitzWolf BW-FYE3 offers 3 hours of play time, and with charging box, it can offer up to 40 hours of play time. Additionally, the charging case can be used as a power bank to charge other devices.
Features
1) The Charging box can be used as a power bank to charge other devices.
2) The BW-FYE3 earbuds can be used as mono as well as stereo. If you want to use it in mono, take out one earbud from the charging box and pair it with your phone.
3) IPX6 waterproof and sweat proof – This allows them to use while jogging, and in the gym, etc. However, they are not submersible and should not be taken for swimming or diving.
4) Auto power on and off – This feature is quite helpful, it reduces the time to get the earbuds connected and start using them. Taking the earbuds out of the case powers them on and placing them back powers them off.
5) Auto charging – Placing the earbuds back into the charging box starts charging them. This way you will always have fully charged earbuds when needed.
6) HiFi Stereo Sound – each earbud is equipped with Φ6mm driver to offer rich HiFi Stereo sound.
Design
The charging case in which the earbuds come is little big in size, but it will still fit most of the pockets. However, the big size comes as an advantage to offer 2600mAh battery which can charge the earbuds about 12 - 13 times.
It takes about 1 hour to charge the earbuds and about 3 hours to charge the charging box fully.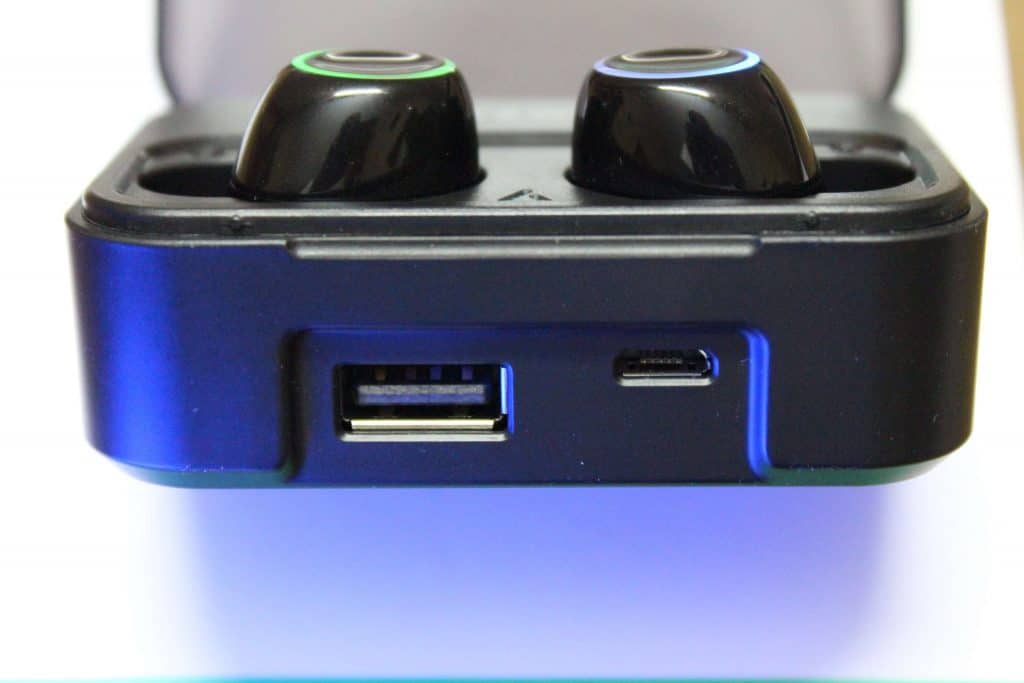 The case is made up of high-quality plastic and comes with a tinted lid. On the front of the case, there is a Micro USB port along with full-size USB Type A port to charge other devices.
Unlike other true wireless earbuds, the BlitzWolf BW-FYE3 wireless stereo earbuds are quite bulky with the shiny finish. But they offer perfect fit inside the ears and even when shaking the head they won't fall off.
On the side of each earbud, there is a touch sensitive multi-function button, which can be used to play/pause music, play next/previous track, Answer calls, reject calls, hang up and other functions. Touch sensitive buttons are preferred over the physical buttons because they don't push earbuds further inside when pressing them.
Around the multi-touch function buttons, there is a LED ring to indicate the earbuds state – charging, pairing, and paired, etc. The charging case also comes with an LED indicator, to show the battery percentage of the case.
Connectivity
The BlitzWolf BW-FYE3 offers excellent connectivity, and I was able to walk a good 8-9m away from the device with these earbuds. With upgraded Bluetooth 5.0 and Dual high sensitivity antenna, these earbuds delivered steady connection without call and music dropouts.
Audio Quality
The audio quality on the BlitzWolf BW-FYE3 is better than of "BW-FYE4". The mids were excellent, and we can clearly understand the dialogues, treble, and bass were also good. The distortion was less even at max volume, and the audio output was loud and satisfactory. Overall the audio quality on BlitzWolf BW-FYE3 Bluetooth 5.0 True Wireless earbuds is nice.
Pros and Cons
Pros
IPX6 waterproof and sweat proof.
The earbuds can be used as mono as well as stereo.
Auto power on/off and auto charging.
Bluetooth 5.0 with stable transmission and low power consumption.
HiFi stereo sound with Φ6mm drivers offers excellent audio quality.
Charging box can be used as a Power bank to charge other devices.
Cons
The charging case is bulky, but it provides the room to equip 2600mAh battery.
Earbuds are super glossy, and they attract fingerprints easily.
Verdict
After using them for over 40 hours, I'm happy to give them a big thumbs up. The BlitzWolf BW-FYE3 is an excellent value for money. So, if you're looking for affordable, easy to use and reliable True wireless stereo earbuds, BlitzWolf BW-FYE3 won't disappoint you.
Where to Buy?
BlitzWolf BW-FYE3 True wireless stereo earbuds are available at Banggood.com for $39.99 (approx.. Rs 2,732.92). However, by using the Banggood coupons listed here, the price can be brought down even further.
| | |
| --- | --- |
| Rating | |
| Final Verdict | Recommended |
This page may contain affiliate links so we earn a commission. Please read our affiliate disclosure for more info.