This tutorial lists steps on how to backup EFS data on OnePlus 2 Android Smartphone – Complete Guide
OnePlus 2 is one of the most popular Android smartphones available right now and if you are a pro Android user who loves to install Custom ROMs, Mods and other stuff then this guide is for you. In this tutorial we are going to backup EFS data on OnePlus 2 Android Smartphone. EFS data or EFS partition is one of the most valuable partition on Android devices. The EFS partition contains valuable radio and communication data like IMEI number, Bluetooth Mac address etc. and any corruption in this partition leaves your device useless as you will not be able to use Wi-Fi, Bluetooth, and Cellular Data Network etc. So basically your device will be useless and only plays media files stored on your device.
Most of the times EFS data or Partition is corrupted because you have flashed the corrupted Custom ROM etc. So before we install any Custom ROM on our Android device we should take a complete backup of the EFS partition so that if it's corrupted we can restore it back.
If you own OnePlus 2 and want to backup EFS data on your device then follow the steps listed in this tutorial. So without any further ado let's proceed and backup EFS data on OnePlus 2.
How to Backup EFS Data on OnePlus 2:
Step 1: First of all install the TWRP Recovery on OnePlus 2. Follow the instructions listed here.
Step 2: Now Boot OnePlus 2 into Recovery Mode.
Power off OnePlus 2.
Press and hold Volume Down and Power buttons together and once you see the OnePlus logo release the Power button while still pressing the Volume Down.
Step 3: Once you are in TWRP Recovery, choose Backup option from the list of options.
Step 4: Select EFS and Swipe to Backup.
Step 5: Wait for the backup process to complete and once done reboot your device.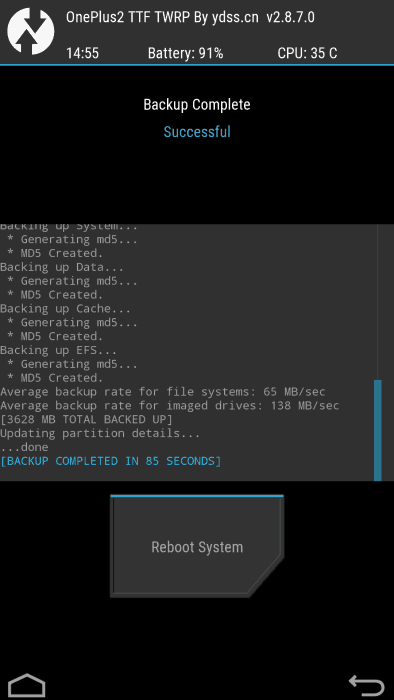 The backup of EFS data can be found in TWRP folder created at the root of the internal storage.
That's it now you have successfully created a backup of EFS data on OnePlus 2 and are ready to flash Custom ROMs.