Android Fastboot Reset Tool is the highly useful tool for Android users. It offers a number of features which includes bypassing FRP via Fastboot Mode, Remove Mi Account, Remove Pattern, Unlock Bootloader and many more. Android Fastboot Reset Tool is updated to version 1.2 with more features and here on this page, you can download Android Fastboot Reset Tool 1.2 by Mohit kkc.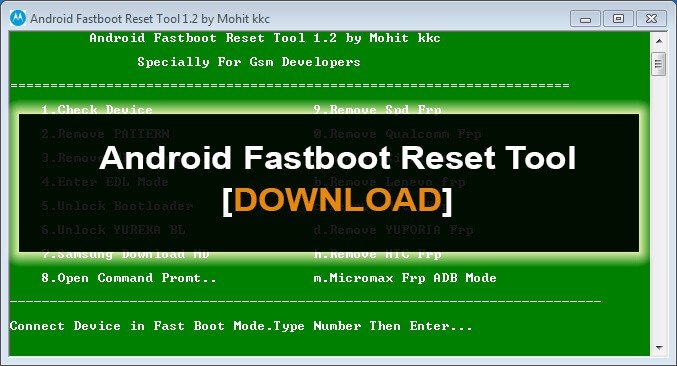 The Android Fastboot Reset Tool is a Command Prompt tool which shows options to perform specific operations. Below are some of the options or features offered by the Android Fastboot FRP Reset Tool 1.2.
Android Fastboot Reset Tool v1.2 Features:
Remove Pattern
Remove Mi Account
Enter EDL Mode – Emergency Download Mode
Boot into Samsung Download Mode
Remove Spd FRP (Spreadtrum FRP Remove)
Remove Qualcomm FRP (Snapdragon FRP Remove)
Remove Xiaomi FRP
Remove Lenovo FRP
Remove Moto FRP
Remove Yuphoria FRP
Remove HTC FRP
Micromax FRP ADB Mode
From the list of features, we can see that this Android Fastboot tool can unlock the bootloader, boot into hidden modes and bypass/ remove FRP on Android devices.
Also check: FRP Bypass APK
Download Android Fastboot Reset Tool 1.2 by Mohit kkc:
Password: mydevfiles.com
The tool is password protected as it gets detected as Trojan by some antivirus software. This is because the Android FRP Reset tool can perform operations like bypassing FRP and unlocking bootloader. The tool is virus free and the antivirus alerts are false alerts. It is recommended to disable antivirus before using this tool.
Disclaimer: Use this tool at your own risk, unlocking bootloader may sometimes brick your device. We are not responsible for any illegal use of this tool and also for the damage to your device.
What features of Android Fastboot Reset Tool are useful for you? Do let us know in the comment section below.